Gameday Recipes
by Anna Victoria in Recipes + Nutrition
The big game is coming up and that usually means grilling, yummy snacks, and cocktails! Whether you are watching the Superbowl, or any other sport, here are some easy, healthier alternatives to traditional game-day appetizers. Be sure to snap some pics of your recipe creations and tag @fitbodyapp on Instagram! Gooooo team!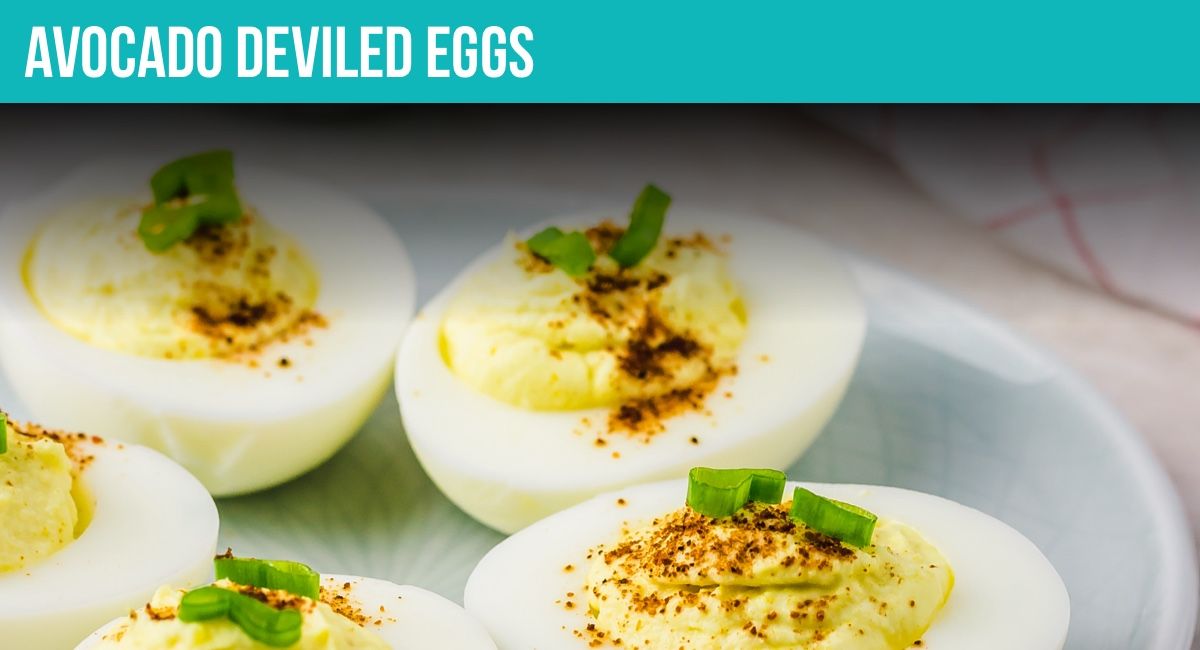 These deviled eggs use avocado instead of traditional mayonnaise to make the creamy, yolk filling. Feel free to top with other fun ingredients such as bacon bits, or add in a bit of jalapeño for a spicy kick!
Makes 12 servings (24 deviled egg halves)
Nutrition Info (per 2 deviled egg halves): Calories: 91  |  Protein: 6 grams  |  Fat: 7 grams  |  Carbs: 1 gram
Ingredients:
1 dozen Cage-free eggs
½ large ripe Avocado
¼ C Yellow Mustard
Garlic Salt
1 lemon
Paprika
Chopped green onion for garnish
You'll Need:
Piping bag with wide-mouthed tip or quart-sized zip-lock bag
Mixing Bowl
Large pot
Directions:
Make hard boiled eggs first! Place eggs in a large pot and fill with water until the waterline is about 1-2 inches above the eggs. Transfer to stove over high heat and bring water to a boil. Reduce heat to medium and boil for 8-9 minutes. While waiting for the eggs to cook, create an ice bath. This step is crucial in making sure the eggs peel easily! IFill a large dish with ice and cool water. When the eggs are done boiling transfer eggs from the hot water to the ice bath and let them submerge for about 10-15 minutes until cool. 
When the eggs have cooled, carefully peel each egg. You are able to peel them under running water if this makes it easier for you! Once peeled and dried, slice eggs in half lengthwise.
Time to make the filling! Carefully remove yolks and place them in a mixing bowl, set the whites aside. Add in avocado and yellow mustard and a squeeze of lemon juice. Mash all ingredients together with a fork and mix well until smooth. Add salt and pepper to taste.
Time to put the filling back into the egg white halves! You can use a piping bag with a wide-mouthed tip, or you can use a plastic bag with a corner chopped off (if neither of these are available you can just spoon the filling back into the egg halves also).
Once the filling is back into the egg halves, sprinkle with paprika and chopped green onion and refrigerate until serving! Yum!

---

This vegan 7 layer dip is a delicious crowd-pleaser that can be served with corn tortilla chips, plantain chips, or veggies! This recipe is also completely customizable, so you can add or change any of the ingredients for your own, personal creation. Happy dipping!
Serves 8
Nutrition Info (per serving): Calories: 197  |  Protein: 5 grams  |  Carbs: 24 grams  |  Fats: 9 grams
Ingredients:
2 cans organic low sodium black beans (about 3 cups)
1 can organic corn (about 1 cup)
1 large ripe avocado
Vegan sour cream (about 6 Tbsp)
2 roma tomatoes
1, 2.25 oz can of sliced black olives
¼  C unflavored soy or almond milk
Fresh green onions/scallions
1 lime
¼ tsp Cumin
½ tsp Garlic salt
½ tsp Chili powder
Chips or veggies of choice for serving
You'll Need:
Blender
Serving dish for the dip (clear glass is best so you can see the layers)
Directions:
First you need to make the "refried beans". Drain the majority of the liquid out of each can of beans. Pour the beans with a small remainder of liquid into a blender. Add in cumin, garlic salt, chili powder and 2 Tbsp of soy/almond milk. Blend the beans until smooth. Gradually add in more milk very small amounts at a time as needed. You can also add in a dollop of your vegan sour cream to add creaminess to the beans. The goal is to have a thick but smooth consistency, not runny. Taste beans and add more seasonings as desired. 
Next it is time to make the smashed avocado layer! In a bowl smash avocado until smooth. Mix in garlic salt and a squeeze of lime per desired taste. 
Drain liquid from cans of corn and olives. If possible, dry corn and olives on a paper towel, the less liquid the better! Dice tomatoes and set aside. 
Time to layer! In your serving dish, layer each ingredient in this order: 
"Refried" Black beans (the thickest layer)
Smashed avocado
Vegan sour cream
Corn
Diced tomatoes
Black olives
Chopped green onions 
Refrigerated until ready to serve. Serve with chips or veggies!

---

This super easy Greeek yogurt ranch is a healthier alternative to traditional ranch dressing and packs more protein, too! This can be served with anything you typically eat ranch with, and can be stored in the fridge for up to 2 weeks.
Makes 32, 2 Tbsp servings
Nutrition Info (per 2 Tbsp serving): Calories: 10  |  Protein: 1 gm  |  Carbs: 1 gm  |  Fats: <1 gm
Ingredients:
1 packet organic ranch dip seasoning
Plain Greek Yogurt, 2 cups (or as much as your seasoning packet designates)
Lemon Juice, 2-3 tsp
Milk of choice, up to ¼  C (recommend whole milk, buttermilk or plain/unflavored almond/soy milk)
You'll Need:
Blender (if you like a thinner dressing, but it is not required)
Mason Jar or Tupperware with lid for storage
Directions:
for a thicker, dip-like dressing
In a mixing bowl mix together the Greek yogurt and entire contents of the ranch seasoning packet.
Add in lemon juice small amounts at a time and taste between additions. You are able to add more per preference. 
Slowly add in milk small amounts at a time until you reach your desired thickness. 
Refrigerate until ready to serve! Enjoy!
Directions:
for a thinner, runnier dressing
In a blender, blend on medium speed the Greek yogurt, 1 tsp. Lemon juice, ranch seasoning and ¼ C milk. 
Add in more milk as needed until you reach desired texture. Add in more lemon juice per desired taste. 
Refrigerate until ready to serve! Enjoy!

---