Halloween Recipes
by Anna Victoria in Recipes + Nutrition
Here are some festive and healthy recipes to get you excited for spooky season! If you make any of these recipes be sure to post a photo and tag @fitbodyapp so we can see all of your creations!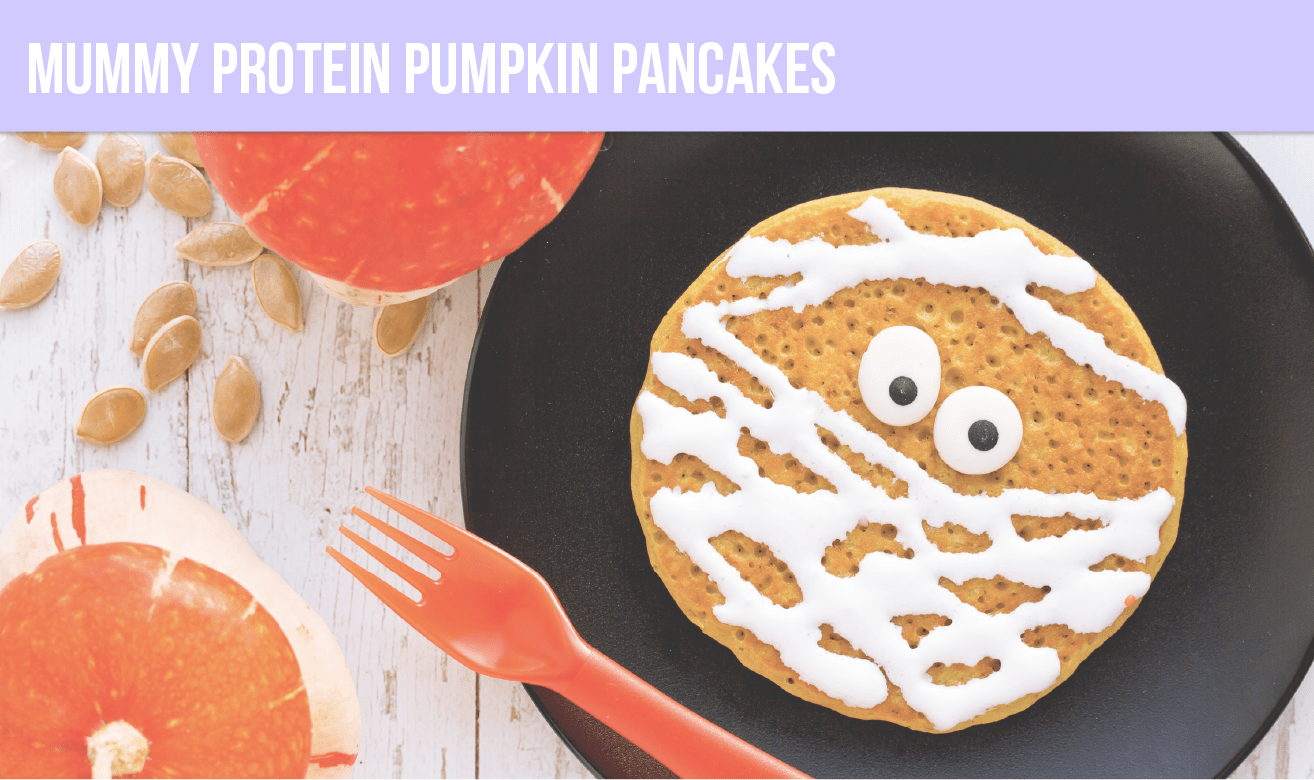 Serves 1 (makes 2 pancakes)
Ingredients: Pancakes
¼ C Pumpkin Puree 
1 egg
1 Scoop Vanilla Ladder Protein Powder 
½ tsp. Baking Powder
½ tsp-1 tsp. Pumpkin Spice
Stevia drops or other sweetener of choice
Blueberries, Dark Chocolate Chips, or Cacao nibs for mummy eyes
Ingredients: Frosting
Vanilla Greek Yogurt
Vanilla Extract
Stevia drops, maple syrup, or other sweetener of choice
Milk of choice
Instructions:
Make Greek yogurt frosting first. Use one individual serving size of Vanilla Greek Yogurt and mix in ½ tsp. Vanilla extract and 1 Tbsp milk and mix until yogurt is slightly runny. Very slowly add in more milk as needed until the perfect, drizzly texture is reached, it will vary between yogurt brands. If desired, use stevia drops, maple syrup, or any other preferred sweetener to taste. Set aside. 
Mix pancake batter. Stir together 1 egg, 1 Scoop Ladder Protein, ¼ C Pumpkin puree, ½-1 tsp pumpkin spice (per preference), baking powder, and 3-5 stevia drops. 
On a heated pan over medium heat use cooking spray with a non-stick pan. Scoop half of the batter into the pan. Flip when the center of the pancake begins to bubble and cook for another 1-2 minutes. Repeat with remaining batter. 
When pancakes are done, drizzle Greek yogurt glaze onto pancakes until they look mummy-like! Add eyes and serve with a side of fruit!

---

Ingredients:
Seeds from 1-2 pumpkins
Olive oil
Homemade Seasoned Salt:
Garlic Salt
Celery salt
Cracked Black Pepper
Paprika
Ground turmeric
Onion powder
Lawry's seasoned salt works well, also
Instructions:
Preheat the oven to 350 degrees. Pull pumpkin seeds from as much of the inner pumpkin membrane that you can. Boil seeds in water for 10 minutes on the stove, remove from heat and strain from water. Dry seeds using paper towels and set aside. 
If you are making your own seasoned salt, mix together about 2 tsp garlic salt, ¼ tsp celery salt, ¼ tsp black pepper, ¼ tsp paprika, ¼ tsp ground turmeric and ¼ tsp onion powder in a small bowl. You can add more or less of any ingredient to preference!
Spread dry pumpkin seeds on a baking sheet and drizzle with olive oil and seasonings. Mix seeds, oil, and seasoned salt together until pumpkin seeds are evenly coated. 
Bake in the oven for 10 minutes and then stir seeds around and bake for another 5-10 minutes until seeds reach desired crispness. Enjoy!
Pumpkin Seed Nutrition Fun Facts!
Pumpkin seeds are a great source of fiber, protein and healthy fats!  Vitamin E is present in pumpkin seeds, which is an antioxidant that protects us from free radical damage and helps reduce inflammation. They also contain the minerals magnesium, iron, and zinc which play roles in our immune system, energy levels and overall wellness.

---

Below are three easy recipes for delicious Fall-themed Greek yogurt dips to pair with apple slices! Greek yogurt provides nourishing, complete proteins and probiotics to maintain good gut health. Apples are in season this time of year, so be sure to enjoy them in fun and healthy ways!
Ingredients: Honey Cinnamon Dip
Greek Yogurt: 170g
Cinnamon: 1 tbsp
Brown Sugar: 1 tbsp
Honey: 2 tbsp
Ingredients: Pumpkin Spice Dip
Greek Yogurt: 170g
Pumpkin Puree: 2 tbsp
Pumpkin Spice: 1 tbsp
Vanilla Extract: 1 tsp
Ingredients: Caramel Apple Dip
Greek Yogurt: 170g
Salt: 1/8 tsp
Maple Syrup: 1 tbsp
Brown Sugar: 1/4 cup
Vanilla Extract: 1 tsp
Instructions:
(for all recipes)
Mix Greek yogurt and all additional ingredients in a bowl. 
Using an apple slicer or knife, slice apple into wedges. Dip and enjoy!

---