Holiday Recipes
by Anna Victoria in Recipes + Nutrition
These holiday recipes are healthier spins on traditional Christmas, Hanukkah and Kwanzaa dishes. We hope that you enjoy your holiday season with people you love, and some delicious and nourishing food! Happy Holidays from the Fit Body family!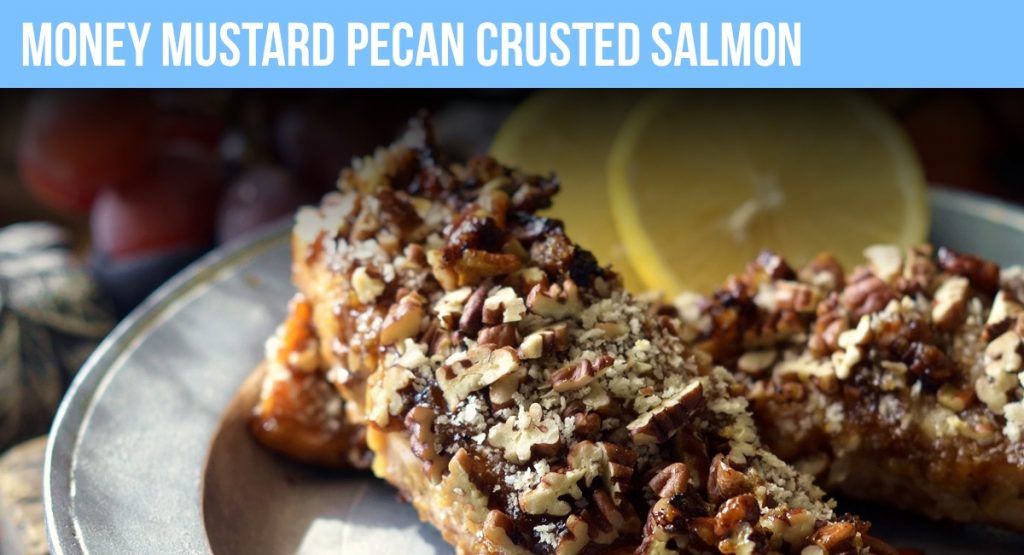 This delicious salmon is a great alternative to traditional holiday protein dishes for our salmon-lovers and pescatarians. This pairs well with both side dishes below, and packs both sweet and savory flavors, plus healthy fats to keep you full until dessert! You are able to use Gluten-free breadcrumbs as an alternative also!
Serves 4
Nutrition Info Per Fillet: Calories: 375  |  Protein: 32 gm  |  Carbohydrates: 10 gm  |  Fat: 23 gm
Ingredients:
4, 5 oz Wild Caught Salmon Fillets
¾ C Panko Breadcrumbs
¾  C Chopped Pecans
⅓  C Yellow Mustard
⅓  C Honey
Garlic Salt
1 Lemon, cut in wedges for serving
Directions:
Preheat oven to 425 degrees. Season salmon with garlic salt and set aside. 
In a medium sized bowl, mix Panko breadcrumbs, chopped pecans, mustard and honey until mixed well. This is your topping, it should be crumbly and moist but not runny. Cut 1 lemon in wedges and set aside. 
Spoon some of the topping onto each salmon fillet and spread gently to cover the top of each fillet. If you have extra topping, you can discard the remainder. 
Spray a baking sheet with olive-oil baking spray. Place coated salmon on tray and bake for 10-12 minutes. Depending on the thickness of your salmon, continue cooking in 1-2 minute increments until done in the center and the topping becomes golden brown. Serve with lemon wedges and enjoy!

---

This simple spin on a traditional Hanukkah dish uses sweet potatoes instead of traditional potatoes, and will keep you and your guests coming back for seconds! Serve with a side of warm applesauce or sour cream. Be prepared to hand out this recipe, because your guests or family are sure to ask for it!
Serves 4
Nutrition Info: Calories: 158  |  Protein: 3 gm  |  Carbs: 14 gm  |  Fat: 10 gm
Ingredients:
2 Medium-sized Sweet Potatoes
¼ C diced Green Onions/Scallions
2 Tbsp almond flour
1 egg
1 tsp Salt
1 tsp Pepper
2 Tbsp olive oil
For Serving:
Applesauce (no sugar added)
Light sour cream
You'll Need:
Potato Peeler
Cheese Grater
Directions:
Using potato peeler, peel sweet potatoes and discard skins. Using a cheese grater, coarsely grate sweet potatoes (like hash browns). Use a paper towel to press into grated sweet potatoes to soak up some of the moisture. Place grated potatoes into a bowl. 
Dice green onions and add to grated sweet potatoes. Add in almond flour, egg, salt and pepper. Mix together well. 
Heat olive oil in pan or skillet until hot. Using about 2-3 Tbsp of sweet potato mixture, form tightly into balls and then gently flatten to create a small potato pancake. 
Cook latkes in pan with olive oil until each side becomes crisp and golden. If they are falling apart, try cooking a bit longer. Repeat this process until all of the potato mixture is cooked into latkes. 
Serve with light sour cream and warmed applesauce. Yum!

---

This Kwanzaa and Christmas inspired dish is an easy, micronutrient-packed side that pairs well with just about any holiday meal!
Serves 4
Nutrition Info: Calories: 212  |  Protein: 6 gm  |  Carbs: 11 gm  |  Fat: 16 gm
Ingredients:
3 C chopped Collard Greens
3 C chopped Kale
3 C Spinach
2 Tbsp Olive Oil
½ C Pine Nuts
4 Garlic Cloves, chopped or whole per preference
Salt
Pepper
Directions:
Preheat oven to 350 degrees. On a baking sheet, spread pine nuts evenly. Bake in oven for about 5 minutes, stirring once in the middle. Keep an eye on them as they can easily burn. Once done, remove from oven and set aside. 
Cut leaves from the stems of kale and collard greens. Chop into 2 inch pieces and set aside with spinach. 
In a large pot or skillet, heat olive oil over medium heat until hot. 
Peel garlic cloves and add to pan and cook for 1-2 minutes, stirring occasionally so they don't burn. Next, place greens into pan and toss to lightly coat in olive oil. Turn heat to low. You can add greens in gradually if your pan is not large enough, they will shrink in size dramatically.  Continue to toss greens as they cook slowly and evenly. Season with salt and pepper. 
Place cooked greens into serving dish, top with toasted pine nuts and serve immediately.

---